College of Education
Mission
The mission of the College of Education (CoEd) is to be a global leader of excellence in the education sciences.
History and Overview
In 1979, The Center for Professional Teacher Education, now the College of Education, began offering coursework at the graduate level. In the late 1980s, a Master of Education and Teaching degree (M.Ed.T.) was approved. This degree served teachers who wanted the opportunity to extend their knowledge base in education and related fields with graduate coursework. The degree enabled students to combine graduate coursework in education with study in an academic discipline related to their teaching field or specialization. Its success led to the expansion of education offerings to include additional certifications in Reading and Educational Administration as well as supplemental certification in Bilingual Education (BIL), English as a Second Language (ESL), and Gifted and Talented (G/T).
As one of only a few Texas universities authorized to offer post baccalaureate teacher certification at the graduate level, the College of Education began offering graduate level teacher certification with an M.Ed.T. in the summer of 1998. With expansion of program offerings, the M.Ed.T. no longer met the needs of all degree-seeking students. In 1999, the College of Education added two new master's degree programs, a Master of Education (M.Ed.) in Educational Leadership and Policy Studies and a Master of Education (M.Ed.) in Curriculum and Instruction.
The M.Ed.T. is now offered exclusively to students seeking teacher certification (early childhood - grade 6, middle level, secondary and all level) at the graduate level. The M.Ed. in Educational Leadership and Policy Studies is available to students pursuing principal certification, principal certification emphasizing dual language, as well as higher education administration. The M.Ed. in Curriculum and Instruction (C&I) is for educators wanting to extend their knowledge in education and related fields, including science and mathematics. The M.Ed. in C&I also serves students wanting to earn a master's degree along with Reading Specialist Certificate and the Master Reading Teacher Certificate. The Department also offers the M.Ed. in C&I with science, mathematics, or social studies education as specialization areas. Supplemental certification in Bilingual Education and English as a Second Language may also be added to the M.Ed. in C&I. Superintendent certification is also available.
The Doctor of Philosophy (Ph.D.) in Educational Leadership was first offered in the summer of 2007. With advancements in technology, many graduate courses are available via the Internet with additional courses being added each semester. The College of Education has an enrollment of more than 1,000 students with approximately 600 students pursuing graduate level degrees certificates.
Conceptual Framework
The conceptual framework of the UT Arlington College of Education was developed collaboratively and has evolved over time. Following the identification of a set of core values held by all involved in the preparation of candidates enrolled in the College, members of the University, PK-12 districts, and area business and foundation communities worked together to develop a shared vision for education.
All activities in the College are guided by the premise that we are Partners for the Future, committed to fostering critical, creative thinkers prepared to engage meaningfully in a dynamic society. This premise is characterized and distinguished by three core values: Professionalism, Knowledge, and Leadership. Research, Diversity, and Technology are themes woven throughout each core value. The College mission, core values, and themes serve as the coherent thread running through all professional programs, guiding the systematic design and delivery of clinical/field experiences, course curricula, assessments, and evaluation. The Conceptual Framework consists of six interrelated and interacting components, which are viewed as essential contexts for shaping informed, skilled, and responsible partners: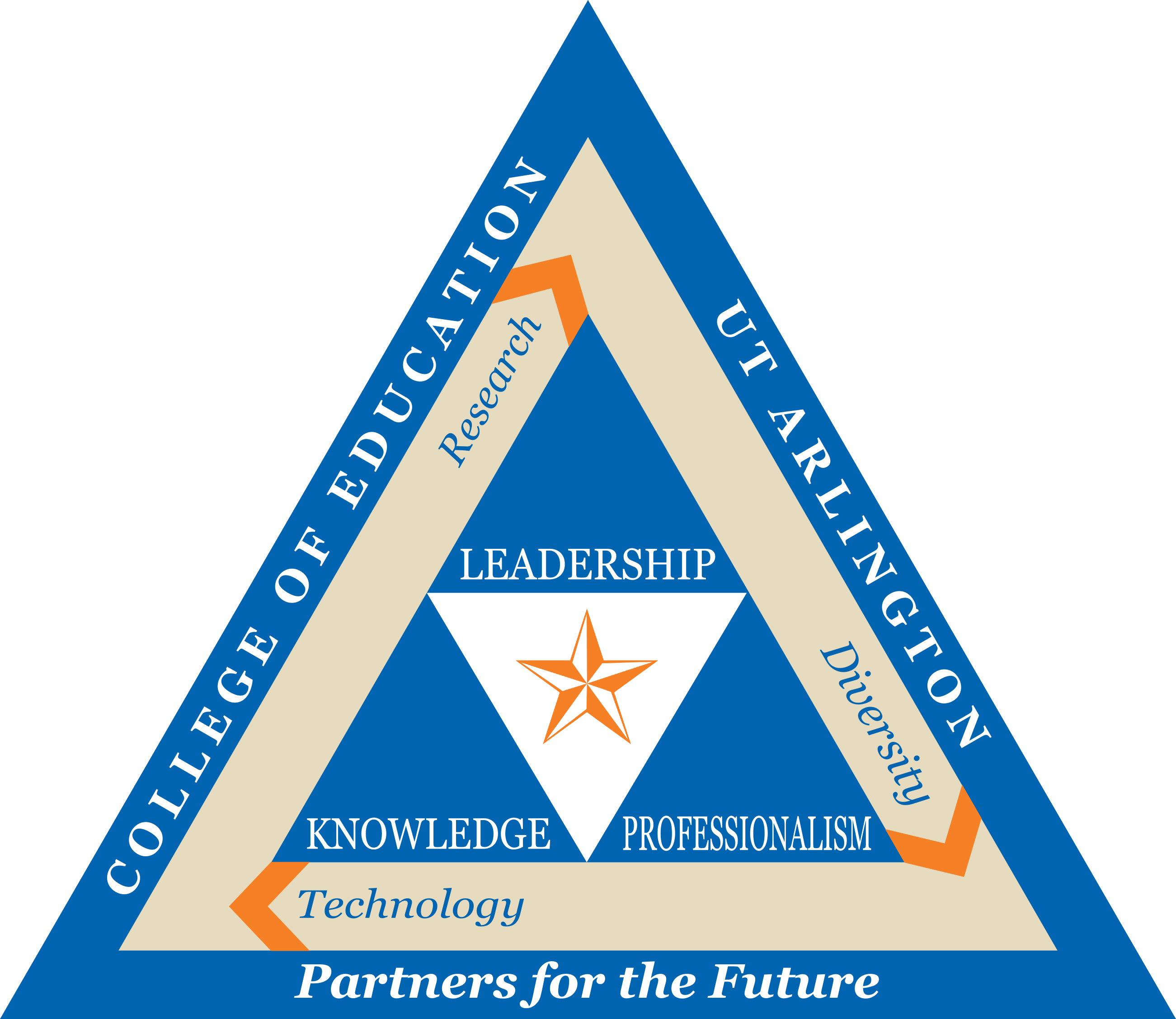 The first core value, Professionalism, represents the contention that candidates develop an expertise and specialized knowledge of their field. A high quality of work, standard of professional ethics and behaviors, as well as work morale and motivation are all necessary factors of a developed interest and desire to excel in job performance.
The second core value, Knowledge, represents candidate theoretical or practical understanding of a subject. In today's world, candidate knowledge includes not only academic content mastery, but also skills such as critical thinking, communication, technology literacy, and collaboration, each of which is required for success in college, life, and career.
The third core value, Leadership, represents candidate ability to organize, assist, and support others in the achievement of a common task. Candidates develop and refine their leadership skills within the context of their interactions with PK-20 students, curricula, faculty, and other professionals.  The additional three components of the model, Research, Diversity, and Technology, represent themes woven into the core values:
Research encompasses the investigation of ideas and theories with the purpose of discovering, interpreting, and developing new systems, methods, and support for knowledge, behaviors, and attitudes.
Diversity is an indispensable component of academic excellence. A commitment to diversity means a dedication to the inclusion, welcome, and support of individuals from all groups, encompassing the various characteristics of persons in our community such as race, ethnicity, national origin, gender, age, socioeconomic background, religion, sexual orientation, and disability.
Technology is emphasized throughout all programs and is used to support and improve content delivery and student learning.
Scholarly Activity and Research Interests of the Faculty
College of Education faculty members strive to model the characteristics of the most proficient professional educators for all students aspiring to membership in the education professions. Faculty members in the College of Education have consistently achieved recognition for their excellence in teaching in the University and beyond. They have received numerous honors, including the University of Texas System Board of Regents Outstanding Teaching Award, UT System Chancellor's Council Teaching Award, election to UT Arlington's Academy of Distinguished Teachers, and the Piper Professor award at the state level. They have also served as guest lecturers at universities across the country. In addition, numerous faculty members have received recognition for their scholarly publications and professional contributions.
The College of Education also values faculty scholarship for its potential impact on the increased effectiveness of teaching and learning in professional education preparation programs and in public and private school settings. Scholarly and research activities cover a variety of areas represented by the expertise of each individual faculty member.
Evidence of service to the College of Education, the University, the community and the practicing profession is also expected of the faculty. This includes service to local constituencies such as school districts, education service centers, parent-teacher groups, professional associations, and/or other agencies and organizations dedicated to the improvement of teaching and learning. It also encompasses outreach programs, community events, civic leadership, and the promotion of alumni support and involvement. The extensive service activities of faculty members in the various departments have garnered additional awards from the University, the community, the state, and a variety of professional organizations.
Department of Curriculum and Instruction
Curriculum & Instruction faculty scholarship focuses on a wide range of topics associated with teaching and learning. These include improving the effectiveness of instruction in various content areas; studying family support for learning; addressing issues associated with social sciences; using technology to enhance distance education instruction and student mentoring; online supplemental student teacher supervision; the effectiveness of service learning; the connections among brain physiology, cognition, and education; and effective practices in school counselor preparation. Funded projects include providing UT Arlington students as mentors to high school students for college success, math and science cohorts and camps, improving retention in post-secondary education, including college success strategies in educator preparation coursework. For more information about programs in Curriculum and Instruction in the College of Education, go to http://www.uta.edu/coehp/curricandinstruct .
Department of Educational Leadership and Policy Studies
In the area of educational administration, research activities and publications have focused on school leadership trends, developing collaborations among the University, public, private and charter schools, fostering creativity in learning organizations, and studying school legal, policy, governance, and finance issues. Current focus is on transition research relative to students, faculty, and leadership across PK-16 school settings, between high school and beyond, and transitions between leadership levels. Other research examines how the media portrays educators and the education profession. See http://www.uta.edu/coehp/educleadership for additional information about programs in Educational Leadership and Policy Studies in the College of Education.
Resources
Certification and Advising Services
Patty Motlagh , Assistant Dean for Student Affairs/Certification Officer, 501 Carlisle Hall
Certification and Advising Services helps students succeed by providing the information and support services needed to achieve their academic and career goals. The Academic Advisors are available to assist students in various stages of preparing for or furthering their careers as educators and school administrators.
Certification and Advising Services also provides information and advising regarding admission requirements and degree plan options, as well as the academic content areas.
To schedule an advising appointment: 817.272.2956
For certification and advising questions: coehpadvising@uta.edu
Information concerning state examinations and application procedures needed to obtain teacher, principal, superintendent, and special program certification in Texas may also be provided by Certification and Advising Services.
To be eligible for certification under all programs, a candidate must meet specific criteria set by the College of Education, the University, and the State Board for Educator Certification. To be recommended to the State Board for Educator Certification/Texas Education Agency for initial teacher certification, a teacher candidate must have successfully completed the following:
All course work required for certification, including a baccalaureate degree.

All College of Education certification courses with a grade of C or better and with a minimum GPA of 3.0.

For purposes of determining eligibility for certification, all applicable grades, including those earned at other institutions, will be used in the calculation of grade point averages.

Pass all required Texas Examinations for Educator Standards (TExES).
Professional Development
The Office of Professional Development supports partnerships between the College of Education and PK-16 schools and their communities. Partner public school districts and the College of Education collaborate to provide high-quality learning environments for future teachers. Prospective teacher candidates apply their knowledge of content and pedagogy during both a Field-Based Experience semester and a Student Teaching semester arranged through the Office of Professional Development. The Field-Based Experience semester gives teacher education candidates the opportunity to observe and interact with diverse student populations in variety of formal and informal educational settings at partnership schools. During the Student Teaching semester, these pre-service teachers refine their teaching skills by working directly with students in classrooms, at designated public schools in the candidate's area of certification, guided by a cooperating mentor teacher and supervising university faculty. Contact: Dr. Denise Collins, Director of the Office of Professional Development, 817.272.7448, dacollins@uta.edu .
Education Career Services
www.uta.edu/coehp/career , 817.272.2831, or careerservices@uta.edu .
The Education Career Services office assists education students who are seeking positions as teachers and administrators. Positive collaborative relationships with partners in the various school districts are important to the College, the districts and students. The annual College of Education and Health Professions Career Day is held in March and typically hosts over 50 school districts. Employers can list position vacancies as well as district job fairs with Education Career Services. In addition, Education Career Services offers career planning seminars, which include guidance on resume writing and developing strong interviewing and networking skills. The ultimate goal is to prepare UT Arlington students for the next step in their career development as professional educators and administrators.
UTeach Arlington
UTeach Arlington is the undergraduate science and mathematics secondary teacher preparation program jointly offered by the College of Science and the College of Education. The program features early field experiences in K-12 schools, courses taught by faculty in both Colleges, guidance from Master Teachers, and scholarship and internship opportunities. Secondary teacher certification that may be earned through UTeach Arlington includes (grades 7-12) Life Science, Physical Science, Chemistry, Physics, Science (Composite), Physics/Mathematics, and Mathematics. UTeach provides teaching kits for science and mathematics teacher education students, as well as certification exam preparation materials, books, journals, and a resource room/student lounge. The UTeach Arlington main office is located in 224 Science Hall. For information, contact: Erin Gonzales, UTeach Arlington Academic Advisor, 817.272.0784, egonzales@uta.edu ; or contact Dr. Ann Cavallo, Co-director, College of Education, cavallo@uta.edu ; Dr. Greg Hale, Co-director, College of Science, greg@hale.uta.edu ; or Dr. Ramon Lopez, Co-director, College of Science, relopez@uta.edu . Visit the UTeach Arlington website at: http://www.uta.edu/cos/uteach/index.html .
Office of Development and Leadership Gifts
The Office of Development and Leadership Gifts plans, manages and directs the College of Education's comprehensive development program. This entails working with alumni, corporations, foundations, and friends to raise private gifts that will support and enhance the College's strategic priorities for academic programs, student services, research efforts and outreach activities. The office works with the College of Education faculty and administration in the identification, cultivation, solicitation and stewardship of donors and prospects. Contact: Anne Robillard, Director of Development, 817.272.7451 or 817.272.2842, anne.robillard@uta.edu .
Assessment and National Accreditation
The Office of the Associate Dean for Assessment provides leadership, direction, and oversight for the assessment and continuous improvement processes and analytics for national accreditation in the College of Education, including unit effectiveness and academic affairs as they relate to assessment and accreditation requirements. Contact: Dr. Carrie Y. Barron Ausbrooks, Associate Dean for Assessment, 871.272.5310, causbrooks@uta.edu .
Centers in the College of Education
Southwest Center for Mind, Brain, Education
The mission of the Southwest Center for Mind, Brain, Education is to facilitate collaborative relationships among educators, policymakers, and researchers in the cognitive and developmental sciences. The Center seeks to identify and support promising research agendas at the intersection of mind, brain and education. Researchers, educators, and policymakers will find a forum where ideas are welcomed and at the same time critically and rigorously examined. The Center invites individuals interested in how advances in neuroscience, genetics, and cognitive science can inform educational practice and leadership. The Center also seeks to advance educational research by recognizing, and profiting from, the role that practical experience plays in defining promising research directions. Contact: Dr. Marc Schwartz, Director, 817.272.5641, schwarma@uta.edu .
Science Education and Career Center
The College of Education and the College of Science work collaboratively through the Science Education and Career Center (SECC) to offer our science and mathematics teacher certification students a quiet place to study, and also access to study guides, models, and electronic resources in Biology, Chemistry & Biochemistry, Mathematics, Physics, and Psychology. The SECC is located in room 106 Life Science Building. SECC contact information: 817.272.2129, http://www.uta.edu/cos/SECC/login.php .
Center for Bilingual Education
Created in response to the growing number of English language learners, the Center for Bilingual Education strives to increase the number of qualified bilingual and ESL teachers in Texas. The Center prepares pre-service and in-service teachers to work with linguistically and culturally diverse student populations. The Center also provides technical support to school districts in their implementation of dual language, bilingual, and ESL education programs. Additionally, the Center offers preparation for the certification examinations in the areas of the EC-6 Bilingual Generalist and the Bilingual Target Language Proficiency Test--Spanish. For information, contact Dr. Luis Rosado, Director, 817.272.7567, rosado@uta.edu .
Center for Social Studies Education
The goals of the Center for Social Studies Education are to advance social studies education research, improve social studies teacher preparation, and provide outreach to social studies learners and their teachers. The Center includes faculty from the College of Education and Health Professions, the College of Liberal Arts, and the College of Business. The Center faculty coordinate social studies teacher certification at UT Arlington, establish targeted partnerships to advance educational opportunities and excellence in social studies for under-represented and under-served populations, and facilitate collaborative relationships across colleges and universities for the advancement of PK-16 teaching and learning in disciplines such as history, geography, economics, and political science. Contact: Dr. Mary Curtis, Director, mary.curtis@uta.edu .
Center for PK-16 Education Policy and Research
The mission of the Center for PK-16 Education Policy and Research, founded in the Department of Educational Leadership & Policy Studies at UT Arlington, is to produce and disseminate cutting-edge research on PK-16 education to inform education policy and practice. We are guided by the belief that educational leadership and opportunity are strengthened by research that takes systemic, integrated approaches to understanding persistent problems across the educational continuum. Contact: Dr. Daniel Saunders, Director, saunders@uta.edu .